Artist Feature ://
Soofiya Andry
Posted January 2018

Soofiya is a designer, visual artist and design educator. Their art and design practice centres around illustration, visual identity and book design as mediums of dissemination.

Soofiya's work and writings aim to articulate a commentary on gender as a visibly gender-non conforming person, race as part of the south asian diaspora , politics and their relationship with their body. Soofiya is presently a lecturer at Ravensbourne in London and speaks, teaches and facilitates workshops across the UK, including Kings College - Cambridge, Pembroke - Oxford, York University, Feminist Library and more.
Their speaking and workshops focus on graphic design, activism, politics and gender as well as writing on these subjects for a handful of independent magazines and newspapers. They regularly collaborate with creative folks and organisations, and undertake artists residencies at institutions around London and the South East.

Soofiya's work has been featured in various outlets like Creative Review, The Guardian, Metro and The Independent. Equally much their work has been showcased at institutions globally including Tate Modern and Tate Britain in the UK, and Parsons School of Design in New York. Some of Soofiya's work has also been archived in The National Poetry Library, as well as archives and libraries across London.





Q. When did you begin to define yourself as an 'artist'?

When I was first starting out I was reluctant to call myself an 'artist', I was trained as a graphic designer and have worked commercially for a few years. Being an artist comparatively seemed really self-indulgent. It took me a long time to gain the confidence to broaden my art practice and start exploring my own ideas, and once I did I never looked back! It was only last year I started thinking about myself as an 'artist' and what that meant to my identity as a creative. In August 2017 I distinctly remember being in a meeting where I was pitching for some work, I showed them my portfolio and one person said, "I know you say you're a graphic designer, but you're an artist, you speak, work and think like an artist". I was really taken aback, it was the first time someone said that to me, and challenged me to reflect on how I saw my work. Since then I've felt more assured and unafraid of being an 'artist'.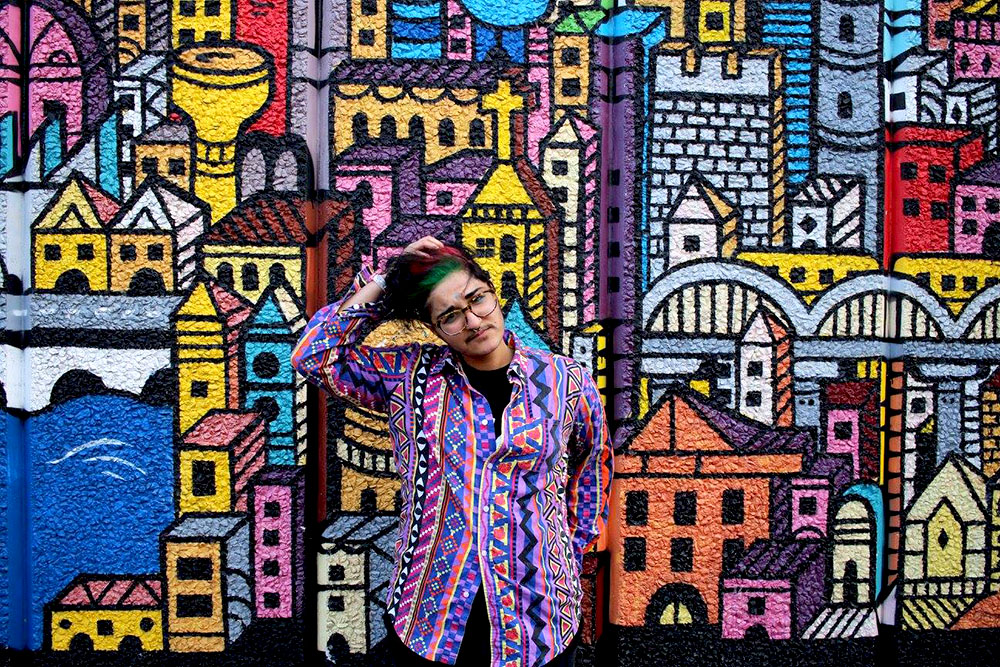 Soof, photo by Krishanthi Jeyakumar



Q. How do you use your work to explore your identity, and why do you feel it's important to do so?

My work has given the opportunity to learn and unpack so many parts of my identity, whether its race or gender-nonconformity I'm really lucky I have language I can communicate in with art. I can slowly begin to understand things and process parts of myself and my identity. It's so important, I don't feel so lost when I'm making. I tend to process things by taking an idea or a feeling first and foremost and then unpacking it. Sometimes it turns into a zine, or an illustration or a gif or sometimes an essay. For me art is like showing my processes like working out like a maths problem. I might have the answer, but it doesn't make sense to others, it's showing how you got there, the maths you did behind it: that's the bit that resonates. I want to show everyone my working out so that they can solve things too, if they need to!



Q. How do you feel your role as an educator influences your approach to a creative practice? As someone who is also a design tutor, how do you feel this adds to your work life and creative practice?

For me teaching, lecturing and working with young people is really important. Teaching feeds into my art practice and my art practice feeds into my teaching. I love sharing ideas and having them shared back with me, it's a real privilege that I can't imagine happening in any other industry in the same way. It keeps me on my toes, because you can't afford to recycle the same feedback and ideas with teaching, every student is unique, I've got to make sure I'm on top of my game to really be able to guide and nurture their projects.





Q. What was one of the largest challenges you have faced during your creative career and how did you overcome it?

I think for my the biggest challenge is trying not to be afraid of going outside of my specialism. When you find something that works, there's a real temptation to just keep doing the same thing, the same style, medium, people you're working with, there's comfort and safety in that. I fear I'll get stuck in that loop and risk my work becoming monotonous. I think one way I've found which helps overcoming is by taking the thing that's working, whether its a colour palate or a medium and mashing it up with something I've never done before. Not being afraid to try and learn different things whether it's sculpture, animation, even performance art etc. and then feeding back into the stuff I'm already doing. It stops things from becoming repetitive.



Q. What about the next few years, what do you want to explore and do?

So many things! I'm really interested in how I've been using art to process parts of my identity or things I'm feeling, like art therapy. I'm currently researching into art therapy and planning on a writing a paper on it, using my work as a foundation. Writing is always mega scary for me and an uphill struggle, but if it isn't scary it's not a challenge, I guess? I also had my first artist residency last year, and it was great experience. I learnt so much and feel much more confident working with art and cultural institutions in a way that benefits both parties, including me as an artist.




Soof, photo by Krishanthi Jeyakumar



Q. Would you have any advice for Soofiya Andry 10 years ago? Or any words of wisdom for a young creative who wants to follow in your footsteps?

Ah Past Soof! I think about Past Soof a lot and what I'd say if I had the opportunity. I think I'd tell myself to do these three things: 1. Listen 2. Be Angry 3. Be Scared. Those three things have fuelled so much of my work and who I am. I wish I had them to drive me when I was starting out as a as young creative. Listening is so important, listening isn't just about waiting for your turn to speak, its about truly deeply holding someone else's words and really hearing what they're saying. Listening informs your work so powerfully. When it comes to being angry, I've done so much because I was and am angry at things. I'm angry at inequality, and injustice, at things not working or making sense, this has pushed me to process a lot of ideas in my art practice. Finally being scared. I'm scared of everything, I'm scared of being lost, of failing, of loud noises, of raw meat. You name it, but somewhere in between being scared all the time, it can be exhilarating because you're not learning or pushing yourself if you're not scared enough.




'Lost and Found' zine, 2017


︎ soofiya.com

︎ @soofiya





Suggested features ://