Artist Feature ://

Sian Fan

Posted August 2018

Sian Fan is an emerging artist working in digital media, installation and performance. She studied BA Performance & Visual Art Dance (Hons) at the University of Brighton where she was also awarded the prize for Outstanding Creative Achievement from Seoul National University.
Her key areas of exploration include: the female gaze, the sublime, the spiritual self and the digital world.

Sian works with movement, the female body and technology to explore and expose what it means to exist, both physically and spiritually. Drawing on her background in contemporary dance, she creates choreography that fragments and abstracts the body, as a meditation on the complexity and ambiguity of existence.
Sian explores the relationship between the natural and the digital through 3D scanning, animation and virtual reality, interested in transcendent and immersive experiences and attempts to crystallize such moments within her works.



Q. When did your interests in digital art begin?


I actually wanted to be a painter when I was younger and spent a lot of my time on portraits. I also did and still do work with installation, which naturally has a kind of sculptural element to it, but I would say my interest in digital art first began when studying my BA (in Performance & Visual Art) at the University of Brighton. I began exploring ways of capturing the body and movement. I started working with film and projection to create digital simulacra that crystallised and preserved moments of movement. This meant I could capture, edit and manipulate movement and in a way reality, which unlocked a whole new way of working for me.



Q. How important is it for you to express/explore self-identity in your work?


Although I use my own image within many of my works, it's not about expressing my self-identity. I like to meditate on an idea and explore it fluidly, rather than focusing on my own experience. However, being present in my work is really important to me. It feels like a more true experience or performance. Using another performer kind of feels false, like acting.



Q. Tell us about any exhibitions that you have been a part of

I recently exhibited my work Garden 2 at an all female show, Techno Utopia by g_URL at Sluice Gallery, which was a really awesome experience. I saw the call out on Instagram and put myself forwards and was luck enough to be selected. The exhibition ran for 10 days, but was part of g_URL's month long residency at Sluice. It was a really exciting and inspiration show, that created a interesting dialogue about female artists working with technology.

Another great show was Playback at the ICA where my film Bloom was exhibited. This was part of the Random Acts commissioning program I was part of, that was an open call for creative under 25 making their first short film. Overall Playback toured galleries and festivals over the UK for a year and it culminated at the ICA.

It's really incredible to see my work exhibited in any public space. Seeing a work installed and alongside other pieces is so satisfying and it's always interesting to see how all the works interact and exist together.




Partial Bodies and Garden 2 Installation, Gender Redo Exhibition at Firstsite, Sian Fan. 2017


Q. What programs have you or are you using to create your work?


I use Unity, Blender, Final Cut and Photoshop when creating my works. Unity is a game design program that I use when creating my VR and AR works. I was turned on to it by a friend who also introduced me to Blender. Blender is a free animation program, the interface is really stressful but once you get used to it, it's ok and it's great that it's free. There are loads of Youtube tutorials for both Unity and Blender, as well as forums.



Q. Are there any artists, artworks, books, colours, seasons (etc) that you find particularly inspiring?

I love Rachel Rossin's work, everything she does really resonates me. She works with VR, technology and sculpture in a way that feels really innovative. A lot of her work involves and invokes the body in a really organic and genuine feeling way, which I find really inspiring.

I love visiting exhibitions for inspiration and try to go at least once month when I can. Seeing great art is the ultimate inspiration, especially when you see something that makes you think 'god I wish I made that'.



Q. What would your advice be to someone who would like to make digital art, but is unsure of where or how to start?

Don't be afraid to self teach; Youtube tutorials are an amazing, free resource and a completely valid way of learning.



Q. What position in your career would you like to be in in 10 years time, and how do you intend to get there?


In 10 years time I'd love to have my own studio and get to spend the majority of my time being creative. I'm taking my firsts steps towards this by starting a Fine Art MA at Central Saint Martins! I'm not planning what I want to do on the course too much, because I want to embrace the unknown, but I'm looking forward to being surrounded by art and artists again and just allowing myself to be immersed in it all. Of course I'm also really nervous as well, as it's a big change… My main worry is affording the rent and not starving to death…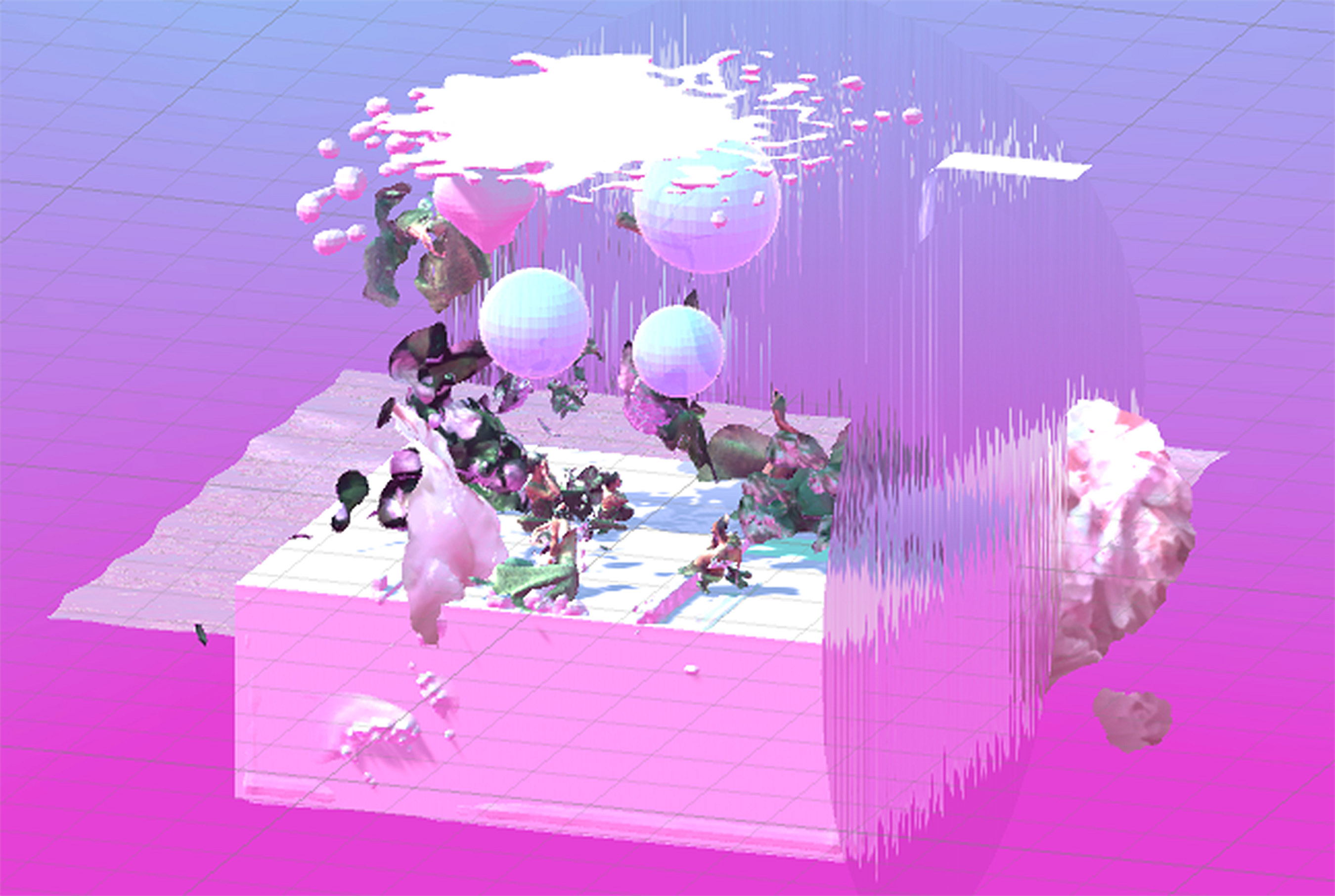 Garden 2, Sian Fan. VR Installation, 2017








Partial Bodies, Sian Fan. Holographic Video, 2017





Partial Bodies / Garden 2


Partial Bodies and Garden 2 are meditations on the relationship between the natural and the digital. Using photogrammetry to generate 3d scans of the artist's body, as well as plants and flowers, the works mesh these together to create hyper-feminine forms.


The fragmented bodies hide behind and burst through the floral elements to create a complex interplay that references images of mystical females, such as goddesses, nymphs and 'mother nature'. The body is revealed via a female gaze that is empowering and elevating.


Undeniably digital, yet innately organic, the fused bodies present an incomplete image that is as much about what is present as what is absent.




︎ sianfan.com

︎ @sianfan




Suggested features ://