Artist Feature ://
Samuel Elstub
Posted December 2019
'
UCKG
', Samuel Elstub. 35mm Photograph, 2019
Samuel Elstub is a London based photographer focussed on scale in cities, through the medium of 35mm film. His work revolves around exploration of built form and the effect it has on the inhabitants of cities. Elstub exposes contrasts in scale when experiencing the urban realm as a pedestrian, and documents this whilst taking linear journeys through cities. He has an education in and works as an urban designer, which has provided a him a deeper understanding of the functions and uses of city space. This knowledge has aided in developing a framework for much of his photographic work.


Q. Where did you study? How did you find the course?


I studied a Masters in Landscape Architecture at The University of Greenwich. The course acted as a springboard for me to get immersed into the processes, territories and fabric of cities, with London being the testing ground for my design proposals within the urban realm. You have to really get stuck in to gather an understanding of how existing spaces function and this is always the first step in creating successful design proposals that respond to their users. Therefore, research is an essential part in the process before a design begins to emerge. For this reason I feel like the most important thing to come out of studying Landscape Architecture is the need to research people and their environments. Methods of observational study such as sketch work and photography are the techniques I have always gravitated to and I honestly wouldn't be using photography as a platform to express myself if it wasn't for my training as a landscape architect.
Q. How do you feel your education as a landscape architect has influenced your photographic style?

I believe my education and work in this field has helped teach me a degree of inquisitiveness surrounding the fabric of city spaces and built form generally. Sense of place and materiality are elements I feel come through in the photographs, which are certainly subjects that are key in my design work too. Also, through working as a landscape architect Ive found that the best design solutions are found at the borders of different disciplines, so when I'm shooting im also trying to find those edges where two things meet. Thinking about it now, when I put that idea into practise with photography, it's often the documentation of scale and contrast of scale where it's best exposed.

'Cunard', Samuel Elstub. 35mm Photograph, 2019




'

DHL

', Samuel Elstub. 35mm Photograph, 2019



Q. When did you start to work with 35mm photography?

My experience with analogue photography is not particularly extensive, having only starting using the medium over the past year or so. Previous to this I have used digital format documenting skateboarding when growing up and also throughout my studies in Landscape Architecture. The first trip I went on with my 35mm camera was to Myanmar, where I much of my experience was rural environments. That's actually the complete opposite to what I shoot usually, but for some reason that was where I really felt the passion for the process of analogue photography. Maybe because I really had time to begin to get to know the camera without too many distractions!


Q. How do you balance your time taking photos with your time working (what is your day job?)?

I'll try and take my camera with me everywhere I go and take shots whenever a moment presents itself. However, having a job not solely focussed around photography means that a lot of my photography is taken during weekends and around times I'm working. Usually I'll plan to travel to a certain location or document a route to/from pre-planned points. I work as a landscape architect and am a skateboarder so that helps with knowledge of local city geographies and where I want to take photos for personal projects. As a landscape architect, I'm currently working on some large infrastructure projects looking at how proposals can be integrated with existing cityscapes. So looking at existing/proposed/new/old conditions is a cross over that I like to focus on also in my photographic work.



Q. Why do you work with 35mm film photography rather than digital? Do you prefer it?
I do prefer it, yes. I like the process and the surprises it often presents. The fact that I haven't got the ability to instantly review what I've just shot gives me a backwards confidence to just trust in the shot, step back and move on to the next subject. Because of this I feel I gain a bit more variety in my work and tend not to dwell on things for too long. This works well when I'm photographing travelling through a city, where myself and my environment are always changing. Having said that, using film has also made me more calculated in what I choose to shoot due to the finite number of shots available to me. Usually, I like to have a plan for the kind of theme I'll document that day.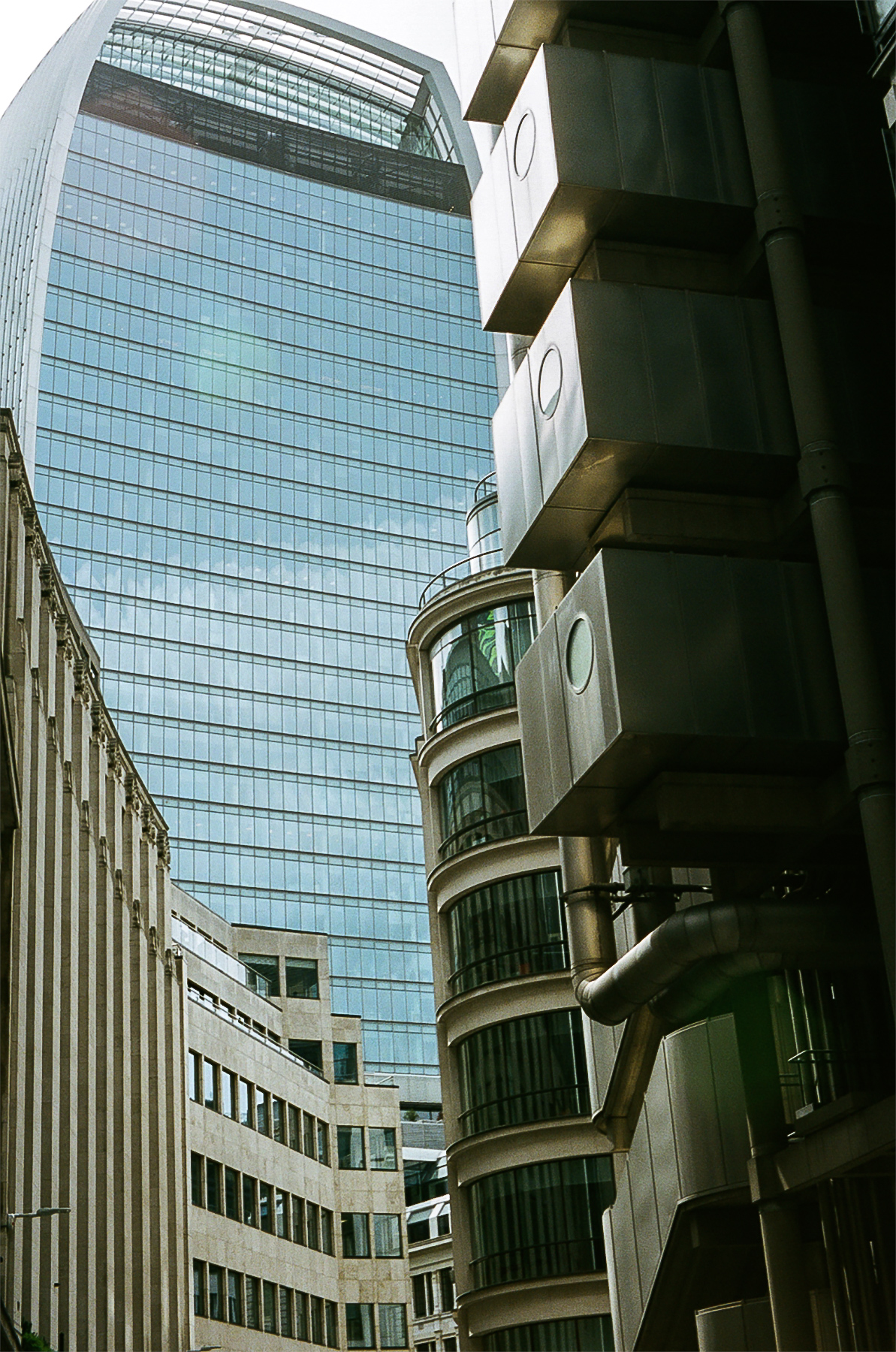 'WT', Samuel Elstub. 35mm Photograph, 2019





'Upper Ground', Samuel Elstub. 35mm Photograph, 2019


Q. Who and what inspires you?
Talking photographers, then I'd have to first mention Bernd and Hilla Becher. They're photographers working as a duo widely documenting different industrial buildings and structures. They employ a really regimented approach, shooting at the same angles, heights, lighting etc, often ending up displaying the photos in a grid as a way of comparison almost. When the results come together you start to notice these subtle differences between the similar subject matter, sort of mesmerising to the viewer. I think their style has taught me to really take time to compose my images and consider what I want from a photo before it's shot. So far that works well with shooting film as you're limited in the number of photos available!

Another huge inspiration is a photographer named Rafael Gonzales from Panama City. He's shoots in film only across a range of formats and, like me, he's also a skateboarder. Much of his photography documents skateboarding but his photographs aren't solely focused on that as a subject. You get a real feeling for the locations he's shooting too, which are mostly city scapes concentrating also on architecture, geometry and pattern for example. The style is really full of life, usually filling the frame completely with no negative space, which is a characteristic of my work too.







︎ @sam.elstub





Suggested features ://