Artist Feature ://

Raphaella Pester

Posted August 2018





Raphaella Pester (BA Fine Art, Norwich University of The Arts) is an artist, temporarily based in Suffolk, UK. Through the use of light, paint, object and architecture she creates large-scale, geometric installations to explore our consciousness of space and objects. With an interest in the human experience of the physical world, Raphaella uses temporary, site specific works to investigate our current perception of reality.




Light Series 2, Raphaella Pester. 2018

Q. What techniques do you use when creating your work that allow you to investigate the 'perception of reality'?


I don't have a defined studio, so to explore ideas or techniques I use various spaces, like squat houses, bedrooms or basements. The space activates the art, so exhibition works are predominately conceived in-situ. I am interested in how we look at things and what we look at. I like drawing people's focus up to the top of a ceiling or right into a corner of the floor, to the grain of wood on a board or the roughness of a painted wall. I often use light projection to draw the audience's attention to these small, pre-existing details, and use found objects to create shadows that disrupt the expectation of a shape or structure. I've recently been working more with digital paint strokes in relation to emulsion, exploring the effect of colour and texture and how our minds blur our perception of what is physical and what is virtual and how the two impact each other.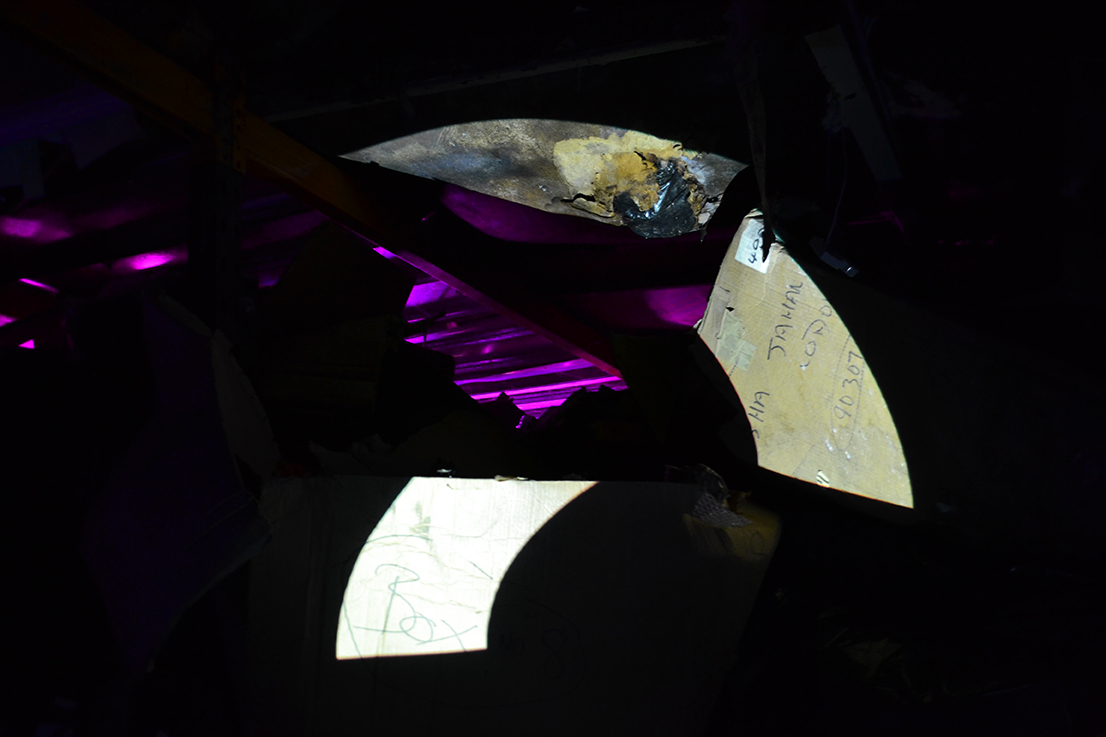 Box, Raphaella Pester. 2018


Q. How important is the combination of physical and digital elements to the outcomes of your work?


The two elements create a conversation, the physical object is illuminated by a digital projection, in doing so it activates the object and references the relationship between material and immaterial. The digital application of shape and light is a homage to the developments in technology and the effect this has on our sense of reality, however, I have found perception of space and object can also be explored using natural light in powerful and interesting ways.



Q. I know you have spent the past few years as a teaching professional, how did this impact your creative process? i.e time you could spend working or concepts within your works.


Horribly. When I was working as a full-time teacher I had no energy to make anything. I thought creatively all the time, but it was an endless wash cycle and I was full of frustration. It wasn't until I started supply teaching in South Tottenham that I had the time and flexibility to retain a creative practice and put on shows. I've now temporarily stopped teaching and taken a job as a brick maker.


Squat, Raphaella Pester. 2018



Q. What period of art or historical artist do you relate most to and why?


It changes depending on where my practice is going. I have been hugely inspired by the minimalist movement of the 1960's, Frank Stella, Robert Morris, Carl Andre, it showed me the strength of simplicity and form. Despite the movement being male dominated, I did find a true love in Agnes Martin's grid paintings, resonating the pure joy of subtly and contemplation. More recently, I have been enthused by the work and writing of Olafur Eliasson and James Turrell who have deeply inspired my use of light and its ability to determine how we see things.



Q. What are you reading at the moment?


The Order of Time by Carlo Rovelli: By the first chapter my mind threw up and instigated emergency mopping. It's theoretical physics with a seriously beautiful cover and stunning prose that chimes well with my relentless curiosity of the self in relation to reality. In an attempt to get away from The Big Boys (and safeguard myself against Rovelli's existentialism) I am also reading A Manual for Cleaning Women by Lucia Berlin who is utterly under-rated and has written some of the best auto-fiction I have ever read.



It's all in your head, Raphaella Pester. 2018



Q. Do you have any advice for an artist, trying to maintain their practice and a full-time job?


Quit your full-time job.
Seriously though, if you must work, it's really down to balance. Work less, make more. Or work your forty hours but make sure it is something that leaves you with enough energy to be creative. If you want to be an artist you need to prioritise your practice, something I found nearly impossible working full-time. Maintain good, artistic friendships that will inspire you when you are rutted or drained, see art as much as you make art, and get enough sleep!


︎


︎



Suggested features ://