Artist Feature ://

Naomi Harwin

Posted January 2018



Naomi Harwin is an artist working predominately in the realms of sculpture, painting and print. Focusing initially on the material in response, Naomi's work explores our understanding of a form, taking inspiration from the natural world and dissecting these observations into a basic formation. Naomi's practice appears to be in constant transition and are presented as final outcomes which could be created from multiple sources. These sit in a state of flux with the potential to be developed.

Currently based and working at her studio at Wysing Arts Centre in Cambridge, UK, Naomi Harwin completed a Ba (HONS) in Fine Art at Norwich University where she developed her style. With a consistent portfolio she began a graduate residency during 2014 at Airspace Gallery in Stoke-on-Trent, UK and in more recent years has exhibited at multiple galleries including Nunn's Yard in Norwich, UK and*Firstsite in Colchester, UK.



Q. Was there a significant moment as an artist where you knew you were on the right path?



I spent six months in residence at Airspace Gallery in Stoke-On-Trent between 2014 and 2015, not long after graduating. Although I'd known for a while that I wanted to be a practicing artist the time spent at Airspace and the results of my residency confirmed this for me. Through a combination of focus and productivity that the residency generated, the works created during this time and my engagement with the artists and the community within Stoke-On-Trent and the culminations of my first solo exhibition made me feel I was on the right path.




'O' install view (solo), Naomi Harwin. Airspace Gallery, 2015


Q. What project/series of work/collaborations are you most proud of since graduating?




I would say I am most proud of 'in between things', a collaborative project I created with artist Michaela D'Agati in 2016. The project was a means of expanding on the shared investigative nature of our practices, we developed an exhibition and publication which examined the shared dialogues and playful methodical approaches towards rationalizing and engaging with forms, objects and shapes in relation to spatiality. I really enjoyed the curation of this exhibition and I think this came through to the viewer.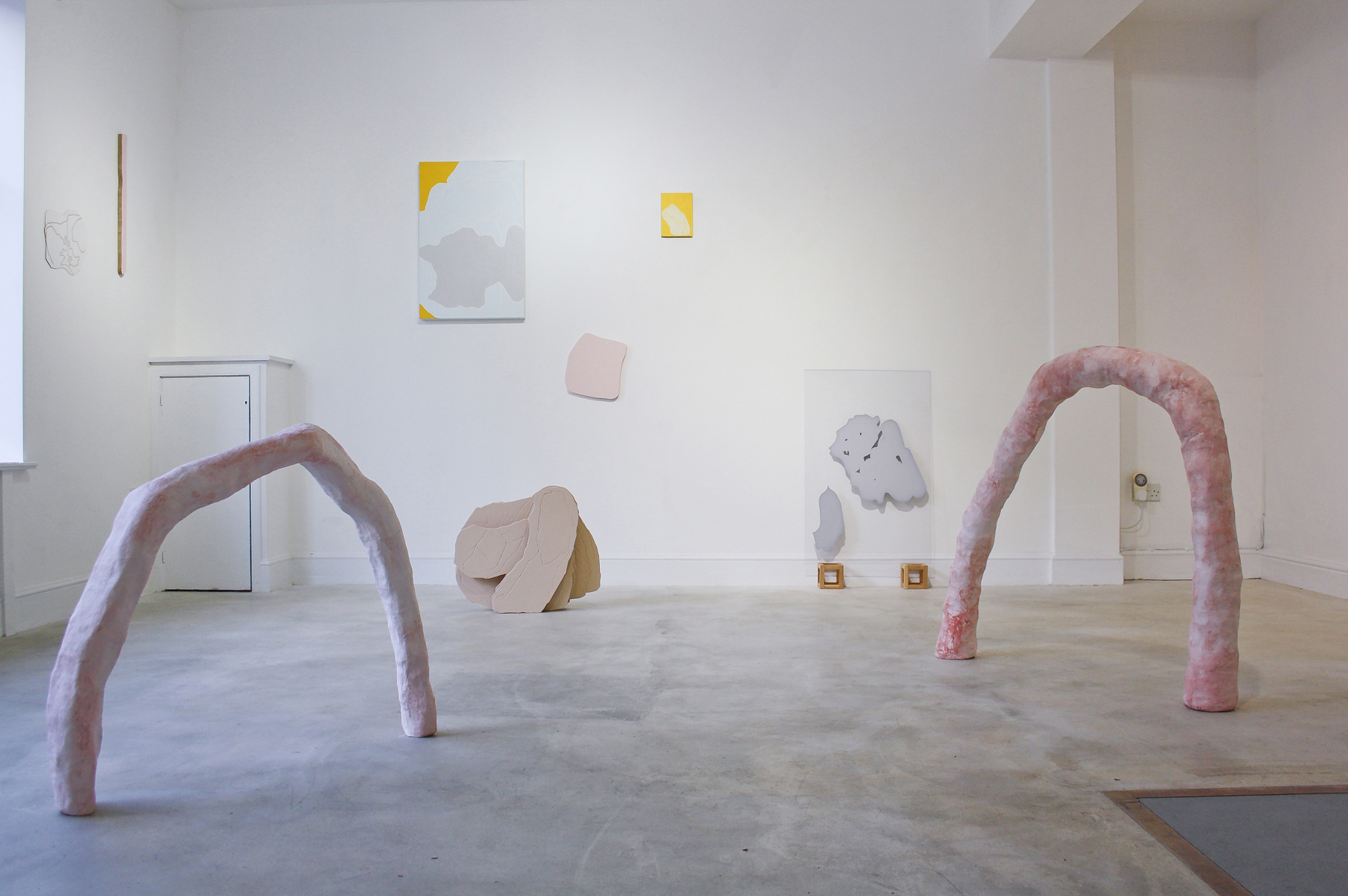 'in between things' install view, Naomi Harwin & Michaela D'Agati. Nunns Yard Gallery, 2016


Q. Tell us about your studio at Wysing Arts Centre and being a part of a diverse range of creative individuals.

I've had a studio at Wysing Arts Centre since April 2015 in the Strawbale block. The ongoing experimental and research led programs, including exhibitions, residencies, public events and projects make Wysing a really interesting site to be a part of. While developing new works and projects within my own studio I have also had opportunities to collaborate and work with studio artists, artists in residence and creative individuals I've met through projects at Wysing. For example, I recently worked with artist Tai Shani who was in residence, producing large sculptural works for her installation in Wysing's most recent exhibition 'Andromedan Sad Girl'.






'At rest in 4 parts (II)', Naomi Harwin. MDF, pine & spray paint, 2016


Q. I know you have been a part of Tate's 15-25 programme at Wysing Arts Centre and Kettle's Yard, could you tell us how important being a part of such a program has been for you in terms of professional development and networking?


Being part of Tate's 15-25 programme in Cambridge has been a fantastic way to meet and work with a range of artists and creative practitioners on a diverse range of projects and events. Professionally it's opened up new opportunities to work as an Artist facilitator and I have developed new collaborative partnerships through the programme.



'Correlation', Charlie Bryan & Naomi Harwin. Video essay & sculptural installation, MDF, Pine & Emulsion, 2016


Q. You have held many workshops at Wysing Arts Centre and surrounding areas, what makes a good workshop?



I think always maintaining the element of play regardless of age range, as this keeps it fun, explorative and offers opportunities to work collaboratively. My own practice is very much process led and investigates the nature of materials and objects. So when applicable I like to bring process to the forefront of my workshops.





Q. What position in your career would you like to be in in 10 years time, and how do you intend to get there


In 10 years time I would like to have established a professional art practice that has significantly developed in its sculptural nature and curatorial ambition. I hope to have exhibited internationally and gained gallery representation. I am always looking for new opportunities to work with different creative practitioners and project spaces, to develop collaborative projects, exhibitions and events. I would also like to have continued my work as an artist facilitator and have begun lecturing to support and discover the practices of new and emerging artists.




'Path old & new ( I & II )', Naomi Harwin. Acrylic, spray paint & pencil on board, 21 x 21 cm, 21 x 31 cm, 2015




︎ www.naomiharwin.com

︎ @naomiharwin





Suggested features ://