Artist Feature ://

Ian Wolter

Posted April 2019






Ian Wolter's practice is mainly concerned with the abuse of power in society he has tackled this theme with a very broad range of media, partly because he uses these choices to carry meaning, to create 'a hook'; but also because of his belief that 'nothing should be off limits.' Wolter derives obvious pleasure from the process of figurative sculpture though and this forms a significant part of his practice: his most recent project, the Children of Calais was inspired by the Burghers of Calais by Auguste Rodin. He trained with the sculptor: Anne Curry and then at the Cambridge School of Art (BA Hons). Prizes include the Arte Laguna Prize (Venice, 2016) and RomArt Sculpture Prize (Rome, 2017) and he's just been shortlisted for Passion for Freedom, London. Wolter lives and works near Cambridge with the author Clare Mulley, their three daughters and a lurcher.



Q. Your work engages and challenges vast social matters in a number of ways and mediums, some performative and temporary and others such as your sculptures which have a strong feeling of permanence, what do you feel has been most effective at addressing these issues and why?


Political art is a strange thing - while it exists as art, it also reaches out into the real world urging a certain way of thinking, or delivering a message. But it works differently than a political cartoon, or a protest banner. It can be very powerful - but to what end? To change minds? I'm not so sure. I think some of the time we enjoy experiencing political art because it aligns with our existing way of thinking, or it tackles a common enemy and so makes us feel good.


I try to use whatever media will best carry the meaning I want to convey, that's appropriate to what I'm trying to achieve, such as criticizing the Vatican's response to the child abuse scandal in the form of a psalm. In that case it had the effect of putting words into the Vatican's mouth, making you wonder what it would be like if they thought like this. As you say, I've also given the impression of permanence in some works because that can imply that we will be judged either in the now, or by history. An example of this would be the Children of Calais. Which is most effective? I don't really see them as different. It's about pulling the levers that will create the reaction you seek.




'The Ectoplasm of Self Delusion', Ian Wolter., 2016. Steel/ expanding foam/ petroleum jelly/ electric motors, 2m x 1.5m x 1.7m




Q. What is your process when composing a work? For example, when you begin planning your works, where is the line in terms of making a political statement? Or do you utilise art as an area where you can push these boundaries as far as you can?


I suppose neither extreme really works for me, by which I mean that I sometimes begin with a fully formed idea, which I then have to simply execute. Or I can experiment and play until I come up with an approach, a thing that might work. Neither approach seems quite right to me – in the first there's a chance that spontaneity creates something memorable, eye-catching, but maybe not nuanced: there's a risk of it being didactic, simplistic. And the latter approach similarly doesn't sit quite right as it seems fraudulent to come up with a form and then ask yourself what it could be used for.
A few weeks ago I was given hundreds of bunches of keys that had been found over the years but not reunited with their owners. I laid about a hundred out on my studio floor in a grid pattern and then studioshared with them for a few days, occasionally thinking about them, eventually being irritated by them. Suddenly it struck me that although each of them was lost property, their owners still had all the things the keys unlocked: the house, car, locker. If you reversed this, flipped it over, so that the keys' owners still had their keys but had lost their home, car etc – then they could be displaced. Refugees. And this thought became the start point of a new artwork.


Q. What spurred you on to begin studying a BA course after already having a strong sculptural practice? And did you find any benefits going into the course at a later stage in your career?


For me, figurative sculpture is essentially craft as opposed to art, though I love it. I find life drawing and sculpting from life is endlessly challenging and rewarding, but I have the innate need to create art too and I went to art school in my 40s to better understand the context I make it in. I had a great time. It wasn't really about studying later in my career that was important, more it was about it being later in my life. Straight out of school I'd have been one of those students who never turned up to lectures.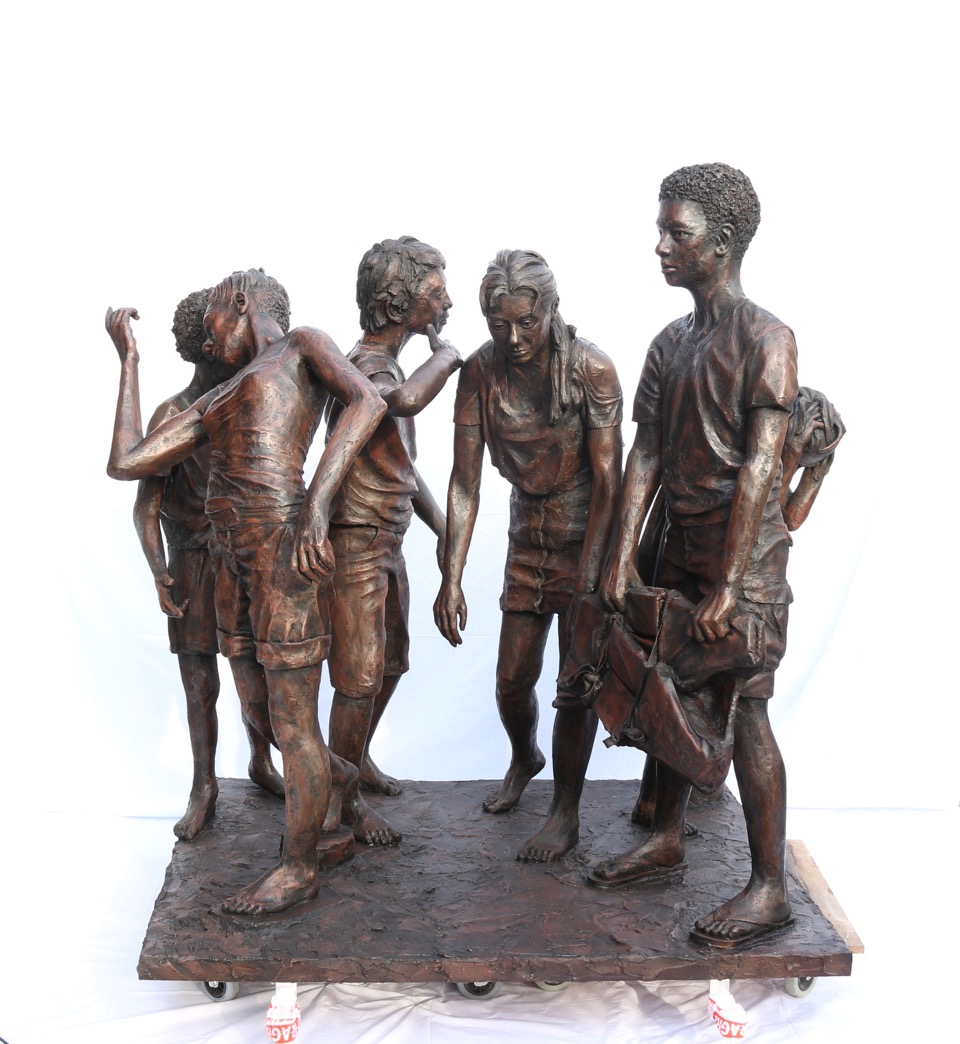 'The Children of Calais', Ian Wolter., 2018. Bronze resin, 1.5 x 1.4 x 1.2m


Q. What's the trick to balancing family life and maintaining your art practice?


My studio is attached to our house so the kids come through the studio and say hi when they get home from school. At one point I was using a lot Vaseline in my practice and one of them skipped through and casually dipped her finger in an oil drum full of Vaseline to use as lip salve! My wife - the writer Clare Mulley, and our three daughters are all very opinionated which I find really valuable; they are all good sounding boards. Though it took the youngest a while to learn that you don't need to point out all the flaws all the time!





'The Holy See Gets It', 2016. Score by Chloe Evans, choir led by: Sue Flynn, performed at Arte Laguna Art Prize, March , filmed and produced by Jonnie Howard Film, audio recording by Dale Suttle


Q. What art awards/pots of funding have been most influential in the development of your practice?


Winning the Arte Laguna prize in Venice straight after graduating was fantastic, partly because everyone should get the chance to stroll around Venice with their own personal choir in tow! But also because it got my name out there and gave me something to put on my very brief CV which maybe makes people take you a bit more seriously. But for my practice, I thing it's collaborating which has best helped me develop, most notably with Susie Olczak and with Emma Elliott.





'Memorial', Ian Wolter, 2014. Plywood, engine oil, pump, 2.2 x 0.9 x 0.6m



Q. If you could have a burrito with an artist dead or alive, who would it be?


I'd like a burrito with Ana Mendieta. At art school I wrote an essay about this Cuban American artist whose work addressed feminism, violence, life and death, identity, place and belonging. I'd like to talk with her about the art world's tendency to belittle some female artists' work as 'merely' autobiographical (as was also done to Tracey Emin). I'd also like to ask her whether Carl Andre pushed her out of the window to her death!




︎ www.ianwolter.com

︎ ianwolter

︎ ianwolter








Suggested features ://