Artist Feature ://
Florentine Ruault
Posted December 2019



Florentine Ruault (b.1996) is a sculptor and a graduate from Chelsea College of Art (2018). Her work is informed by the impact of globalisation on contemporary cultures and future societies. Taking inspiration from biomimicry, neuroscience and architecture, her works are magnets for societal and environmental investigation. The artist's sculptures and installations aim to be fractal and unique to push back against city homogenisation. Alongside creating pockets of variation in our cityscapes, the artist reveals that her sculptures are societal interventions to reverse the effects of our current city designs, namely increased rates of depression, addiction, loneliness and stress-related disease amongst populations. Her intention is to to counter the encroachment of digital communication in individuals day to day lives and remind them of the power of personal interaction. To combat this dark side to urbanism, Ruault harks back to our natural origins as a way to examine and propose alternatives to these social issues. Florentine Ruault has exhibited nationally and internationally with institutions such as Tate Modern (London, 2018), Raw Pop Up (Miami, 2018) and Chalton Gallery (London, 2016).

'

The Wave

' - Summer City, Florentine Ruault. Steel, aluminium, sabrah threads, wooden modules, 2018




Q. Do you feel that art is an important tool to combat and impact on well-being and mental health? Why is this particularly prominent for you in a city?

Through genuine interactions, taking the time to think and step back, art can cover a wide array of emotions by stimulating parts of the brain that are often left aside nowadays. Triggering these interactions can help improve certain types of mental health issues. Cities are full of lights and energy but their impact on personal, social and natural environments are alarming. Organic elements, are one of human necessities, which can't be easily fulfilled in urban environments. A substantial part of my research is based on biomimicry, which is the design and production of materials, structures, and systems that are modelled on biological entities and processes. When I sketch projects, I intend to create fractal shapes and environments to differ from usual urban environments. I believe that accepting evolution of our daily environments, act as an incentive to positively impact our general well being.


Q. Tell us about your time studying at Chelsea College of Art, London…

Chelsea gave me the opportunity, and the tools, to explore different parts of my practice. At the time of my interview, I had a photography portfolio. In my first year, my practice shifted to installation and sculpture. My experience of studying Fine Art at the Chelsea College of Art was a combination of working individually and collaboratively, concretising concepts in the workshops along with tutor meetings. We had a good work energy in the studio. We were able to express ideas and bounce back from one another's point of view on social and cultural concepts. Chelsea's educational system is very much based on self-initiative. The combination of a strong academic support and other experiences from my foundation years taught me to develop a creative thinking and incorporate it in my practice. The only down point, which is present in most of today's art schools, is the lack of teaching on practical matters such as: law, business and marketing. Choosing to be an artist to earn a living requires the same skills, dedication and money management as launching a start-up.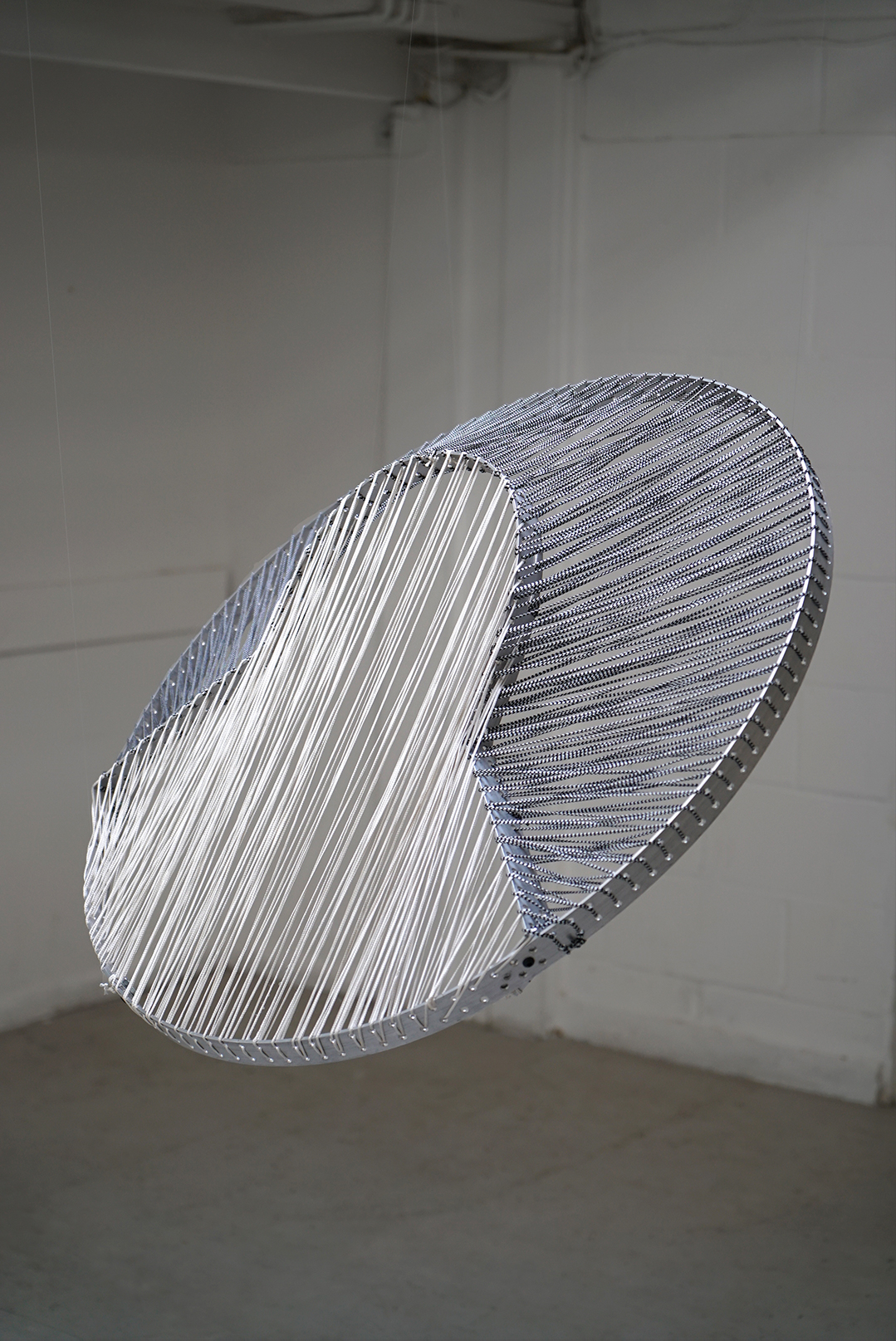 '
Elevation 1
', Florentine Ruault x Jane Quan.Aluminium and sabrah threads, 2019
'

The Fifth Element'

, Florentine Ruault. Aluminium, sabrah threads, rosco mirrors, 2018




Q. How does your work re-affirm personal interaction within public spaces?

For 'The Wave -Summer City', located on the opposite side of Tate Britain, I added blue multi-purpose to the space, as a way of bringing together various groups of people. From employees of nearby companies, Tate Britain's visitors, Chelsea College of Art's community and passerby. All cohabiting and using the space for their needs: sharing a lunch to reading a book or just breathing, and sometimes opening new conversations. I have chosen to work with aluminum as it has been used in many of today's urban designs such as buses, bench or barriers. I aim to twist the use of aluminum in a bold and colourful manner by placing sculptures and installation in the city. One of my intentions when creating new works, is to compose a space where intimacy can occur amongst different members of the audience. I that hope this attempt will contribute to a better quality of life for citizens.





'

Charlie's Electric Sheep

', RAW POP UP, Florentine Ruault x Jane Quan. Aluminium and sabrah threads / Live Interactive Projections, 2018




Q. Your work makes comments on the effects an increasingly digitised society have on individuals, is there space for your work to intertwine with a digital medium, or do you feel this would be counter productive?

I don't think it would be counter productive at all. It is important to me to combine different mediums in my practice. My aim is to provoke questions and thoughts on today's society by creating artworks and sharing them. The digital world has been a major part of my childhood via the evolution of the technology itself. Yet, the years living without these tools feel like a blessing compared to what the youth is currently experiencing. Digital elements such as data digitalisation, social media and artificial intelligence are still quite recent. We are only at the beginning of discovering the impact it had and will have on our daily lives. One of my latest work was collaborating with an interactive digital designer (@jane.xq) for an exhibition at Raw Pop Up during Art Basel Miami last December. "Charlie's Electric Sheep" is an interactive art installation. Its name is derived from Philip K. Dick's Do Androids Dream of Electric Sheep? (aka Blade Runner ). It comprises two main components: Charlie and the Electric Sheep. Charlie is a two-meter tall abstract face-like sculpture.The Electric Sheep is the distorted mirror image of the audience inviting them to interact with motion reactive visuals and a digital version of themselves, that is projected onto Charlie.





'
The Wave
' - Summer City, Florentine Ruault. Steel, aluminium, sabrah threads, wooden modules, 2018
'

Window 1

' (2017) - Florentine Ruault



Q. Do you have any advice for an artist who wants to exhibit work in the public domain?

Start making. Find a way that allows you to express your ideas. Sketch. Make prototypes, maquette, photo-collage and edits. Share your ideas. Look for collaborations, residences and submissions. Open your mind to how your work can be perceived and think about the different ways and materials to convey your message. Take walks where you would like your pieces to be exposed. I personally often go on walks with no goals except for experiencing the energy of the space and understanding how the public is using the space.


Q. If you could own an artwork for one week, what would it be and why?

« Our Time » by United Visual Artist. This installation is the most mesmerising installation I got to experience this year. Nearly sur-natural with such delicacy and style. The collective successfully immerses the audience in an alternative dimension in a large rectangular black room with a cloud of smoke as the ceiling. There are eighteen sources of light organised in three even lines. The lights create multiples scenes by moving at different patterns and rhythms. Each scene has its own evolution of the soundtrack using bass, gongs and low frequencies.




︎ www.florentineruault.com

︎ @florentineruault




Suggested features ://