Artist Feature ://
Duncan Poulton
Posted January 2019
Duncan Poulton's practice could be seen as an expanded form of collage realised through digital video and image assemblage. Itinerant in nature, his work is currently preoccupied with themes of simulation, copying and circulation, acting out an ongoing remediation of our increasingly virtual world.

He is involved in a constant and obsessive process of gathering materials into a vast digital archive - focusing on 'poor', lost or arbitrary images - and developing new frameworks or intuitive logics with which to reinsert them, offering them new life. Working exclusively with found content, he observes, deconstructs and reconfigures digital imagery to shape new formal or absurd associations and overlaps.

Duncan's recent digital collage works seek to evoke a new visual culture of constant juxtaposition, ambivalence towards images and the collapsing down of history and meaning engendered by the internet. With productive misinterpretation, intuition and automatic technique as strategies of choice, he aims to produce a body of discrete works that make sense of our hyperconnected and oversaturated reality, one bit at a time.
'Inventory',

Duncan Poulton. Digital Collage, 2018




Q. What does your working environment look like?


I currently make work at my house in London. When I was studying my BA at the University of Brighton, our second year was treated as a 'post-studio' year in which we had to make work outside of the traditional studio; on placements, residencies etc. During that period I migrated to working with computers, and have found the studio a slightly alien place ever since.

At present my work environment is essentially a laptop and my memory of what is stored on my hard drives. The most challenging part of working without a studio is keeping note of all these images and seeds of ideas that would normally be stuck up on the studio wall. Technically, the work environment can be anywhere, and I would like to pursue working in a shared studio in future, but balancing that with the realities of living in London is another thing.

I recently completed an online residency with Digital Artist Residency, which I found useful for a sense of structure and momentum, as well as offering the freedom to work in a more loose, experimental way, being more transparent about the digital labour processes which are often left invisible. I think finding those opportunities that can work for your practice is key to keeping things exciting when you work in a nomadic way, to offer a timescale and focus.




'zzzzzzzz', Duncan Poulton. Digital Collage, 2018


Q. You have exhibited your work in many places, how do you find or get offered these opportunities?


I've always been quite organised with locating and applying to opportunities online. The great thing about working digitally is the immediacy with which you can distribute your work, unrestricted by geography. Working with video also lends itself to a wide, multiple and often simultaneous circulation of the work which is one of my favourite qualities of the medium.

I developed a network of like-minded people when living in Birmingham, particularly through the artist-led gallery Eastside Projects' associate scheme. I'm always excited at the chance to show work within the network of regional artist-led spaces and its great to see these organisations working together to provide opportunities, trips and residencies for members/associates in other cities. They have a freedom and agility that larger galleries and institutions don't, which allows them to be involved with some really interesting young artists and cutting edge practices.

As someone relatively new to London, which can at times be dwarfing with its many sub-art worlds, these regional and online networks show themselves to be important and unique in their sense of community. That said, I am always seeing more peer-led opportunities emerging in London, whether it be alternative further education models like School of the Damned or AltMFA, or artist-run groups like 12ø Collective or the LUX Critical Forum, which I felt fortunate to be involved with last year.





'Diane', Duncan Poulton. Digital Collage, 2018


Q. Tell us about the process behind your collage work. Do you intend to explore a particular theme and where do you source material, how many elements do you create yourself?


The digital collages came out of a need to produce work in a more immediate way; video work can be time consuming and harder to accommodate around a tight schedule. They generally begin with a desire to use a particular image and then I comb through my expansive archive to bring in other content I think could work together to form a palette of potential materials. I then work with these files; sampling, extending, erasing or duplicating the different images, and adding elements of digital painting or other effects in a kind of intuitive and improvised way.

The theme and title of the work often become apparent during this process of reworking the image, but are inevitably informed by the type of images I look out for in my gathering process. The images I appropriate range from targeted image searches, 3D modelling websites, photographs taken of old books, diagrams, patents, graffiti or found doodles - I'm particularly drawn to 'poor', unfinished or anonymous images, and seeking out some overlooked nuance in them. For me its exciting to make these very disparate things collide or sit next to each other in an interesting or absurd way.

For a number of years I set myself a rule that everything used in the work had to be found or appropriated in some way. I wanted to remove traditional production from my process; to reshape, degrade and recombine existing culture as a response to this overwhelming ocean of images we're constantly surrounded by. More recently I've started integrating some of the iPhone photos I take, to become a bit more transparent about my gathering process and expanding the frame in order to implicate myself in the work in some way.



'Pile (Circles)', Duncan Poulton. Digital Animation, 21 seconds, 2018


Q. Does this way of working devalue the images in anyway? Does it increase their value? Does the manipulative process change their initial purpose?


There is the question of how much a compressed digital image, downloaded from the internet in a set format and resolution, constitutes of its original referent; whether it is inherently without value, empty by its nature. For me it also comes down to the principles of collage - value is created by the combination of materials - the materials themselves become something else, a part rather than a whole. I think that with the ways in which we consume media now, this notion of bricolage and sampling is expanding into an accepted and integral part of contemporary practice, particularly within my generation of artists.

That's why I like to work with materials on the 'outer reaches' of the Internet, or from obscure unwanted books in charity shops, to try to redeem these materials or reevaluate their relevance. When you work with second hand imagery, this redemption can often involve a kind of upcycling of the images where you try to improve them through software trickery, so in a way this is an attempt to apply value. That said, with my digital collages I like to leave some trace of the nature of the images - some elements are more pixelated than others, erased edges and brush strokes are jagged, every work has some form of cloning or repetition within it. Giving some visibility to the production process through flaws gives it a sense that it was made at a certain time in a certain way.


I find that right now images are on an increasingly horizontal plane of importance; equally accessible and lost, visually rich and yet banal - there's a total homogenisation, a collapse into ambivalence. The question becomes not how can I make another image, but what can be done with the exponential expanse of already existing content?




'Meat Head', Duncan Poulton. Digital Collage, 2018


Q. What aspects of the real world inspire or influence your digital creations?


I'm always fascinated when searching through 3D models and finding CGI videos online, particularly amateur or 'prosumer' uploads, and seeing what people have chosen to scan, model or animate. Mundane objects like shoes, desktops and domestic spaces are given this monumental, almost symbolic quality through processes of digital translation. I feel as if we're at a really interesting stage in the childhood of these emerging technologies, where the democratisation of tools and software means arbitrary objects and moments are documented, captured and stored in perpetuity, often in haphazard and impoverished ways. Coming across these fragments has an uncanny sadness and humour that fascinates me.

Real life documents rarely interest me; there's some need for the work and its contents to occupy a surreal, imagined or virtual space. My interest lies in bringing human elements - intuition, emotion, self-deprecation, strangeness - to these artificial fabrications, to imbue them with a new life and let them sit within a new context or framework.



'
Hymn Eola
', Duncan Poulton. Digital Collage, 2018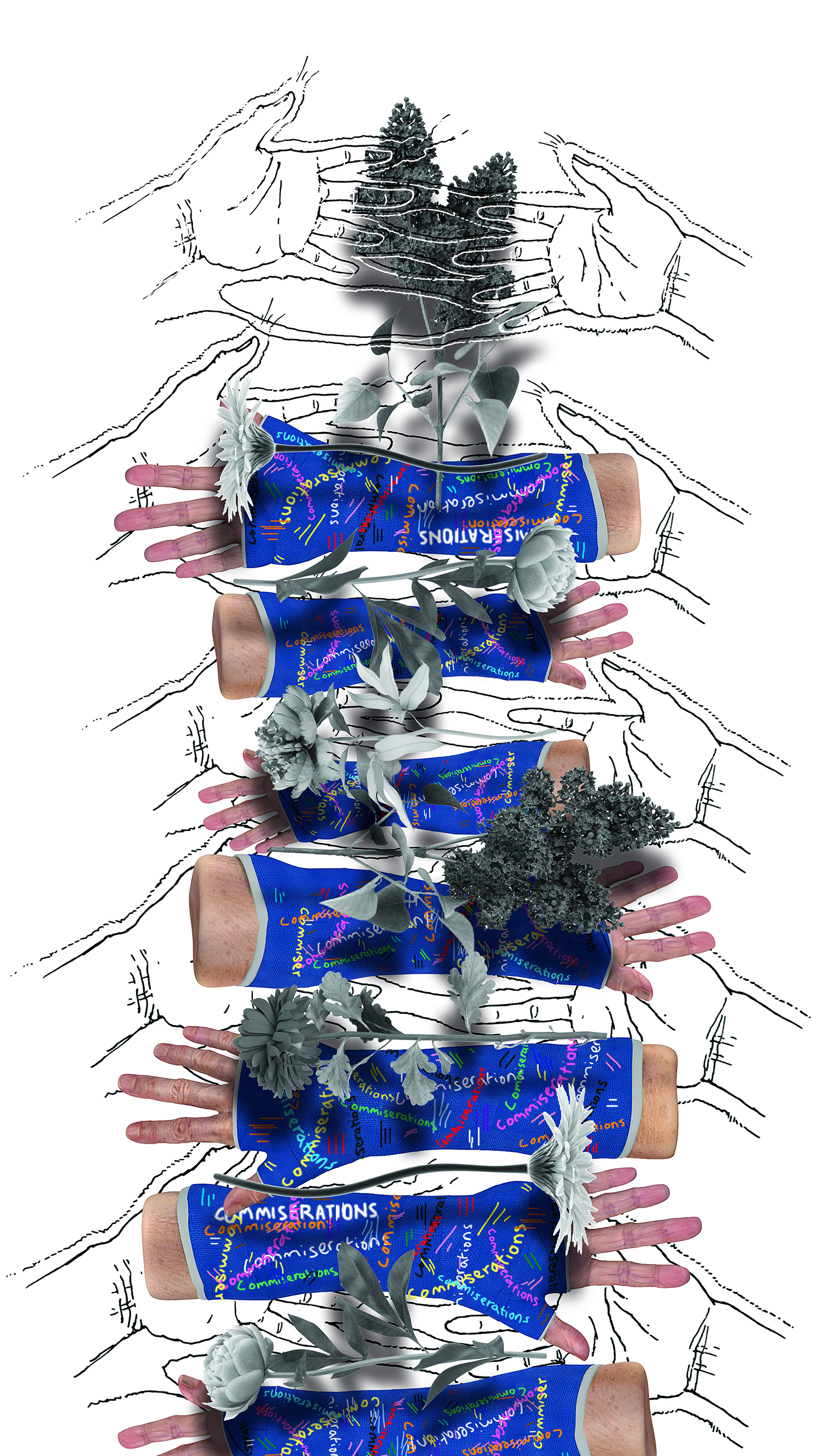 '

Commiserations

', Duncan Poulton. Digital Collage, 2018



Q. What does the future of digital art look like?


As every facet of life and production becomes increasingly implicated into an Internet of Things, it will become difficult to distinguish practices by a digital/analogue binary. If it doesn't already, every form of practice will soon have some form of digital augmentation. I have no doubt that digital art will become the dominant form of art production, exhibition and history in the near future. The question is how it can be given commercial viability for practitioners through building a sales model and market, and how funding for new work can continue to be meaningful and consistent, beyond these early years.

It's been said that digital imaging has already reached a point of sophistication whereby nothing is beyond the limits of perfect simulation. But digital art is still made by artists, who are bound by their human experience. I wonder, within the limitless realms of simulation, will virtual artists or algorithmic actors be able to move beyond the bounds of the human? And if so, would we be able to appreciate what they make as art? I think we'll see an acceleration in this kind of outsourced art practice in the coming decades - maybe there will be AI artists who were made by other AI artists. I wonder how we will put value on this kind of work in the future?



︎ www.duncanpoulton.com

︎ @duncpoulton






Suggested features ://