Artist Feature ://
Chris Speed
Posted January 2019
Chris Speed is a London based audio-visual artist who studied a BA in Film and Moving Image Production at Norwich University of the Arts. His practice explores deconstruction as a tool for creation whether that be through circuit bent toys, degaussed videotape or graphics programming.

He has worked with a variety of clients from Mixmag to Adidas and has had installations displayed at SuperByte festival, Norwich Arts Centre and Firstsite Colchester. He is currently studying a Masters degree in computational arts at Goldsmiths, University of London.
'

Noise Report

' Performance, Chris Speed. Oscilloscope Music Software, 2018.

Photo credit by Eliza Gromova Gulb.





Q. What comes first, the sound or visuals and why?
When I am working with musicians the sound comes first and I will create material in response to it. However, in my own AV investigations the relationship becomes more malleable. This new performance I have been showcasing is an experiment where the two are in a symbiotic relationship with each other. I 3D scanned objects such as a skull and mannequin head then used a program called OsciStudio to change them into sound. This generates harsh square waves which are further distorted through guitar pedals and a Kaoss Pad. With this technique, both the audio and the visual are mutually exclusive which is a co-dependency I would like to develop with each iteration.




Q. How important is it for your performances to immerse the crowd?

Immersion is entirely subjective to each crowd member, I believe you make a conscious decision as to how much attention you are willing to give. However, as a performer you can weigh this probability in your favour by utilising certain immersive strategies.




'SHDW AV', Chris Speed. Multi Projection Performance, 2018. (

WARNING

: Contains flashing imagery)

For me, it's natural to produce fast music with loud visuals, that people might consider scary. It may seem like I am using shock tactics to gauge an audience reaction, but I am trying to be sincere to my artistic intent. Sometimes I create ambient content or abrasive experiences depending on my emotions at the time. But to come back to the question, yes, it is of great importance for my shows to immerse the crowd.


Q. How do you balance commercial work and your own practice? Is it possible to maintain the integrity of your individual work in a commercial gig?
In my brief experience working for commercial gigs, it seems that big companies are much more open to 'edgy' new media than ever before…within reason. I would never go full throttle with commercial work as it could result in an epileptic fit! However, I think it is possible to maintain your integrity by finding an aesthetic compromise that suits you and the brand you are working for. Save the strobes for the club!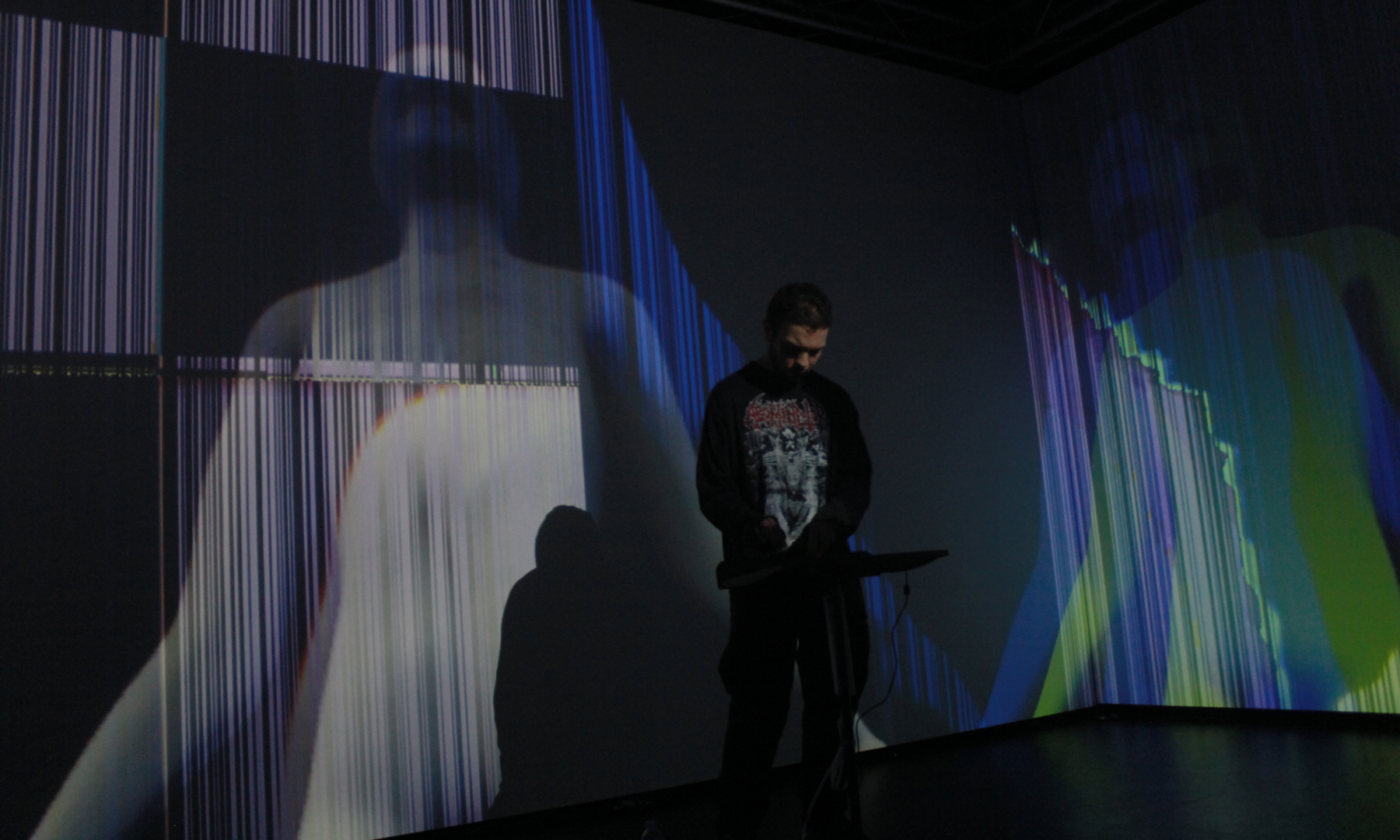 'SHDW AV', Chris Speed. Multi Projection Performance, 2018. Photo credit by Ben Sammon.


Q. What is the ideal venue you'd like to see your work in?
I have many ideal venues to create site-specific artwork in. After years working with singular projections, recently I have experimented with expanded cinema. For instance, at my university degree show we performed with five projectors, huge screens and multi-channel sound to construct a fully immersive audio-visual environment. However, I am also fascinated by the architectural reverberation of industrial spaces, so to perform in venues like that would also be a dream come true.


Q. Why did you choose to pursue a masters and what has it added to your practice?
For a long time, I used proprietary applications for CGI and video editing. But after a while your creations start to become homogenised due to limitations of the software. I already dabbled in weird stuff to make my portfolio standout such as experimenting with electronics and open source software, so it seemed logical to pursue this within an academic setting. Though my filmmaking background will always influence the semiotics of my practice, I now want to relinquish some control to the machine in exchange for emergent computational artworks. Studying at Goldsmiths has given me access to a wealth of knowledge unavailable online, surrounded me around wonderful people and has allowed me to deep dive into how these tools work.




'SHDW', Chris Speed. Digital CGI, 2018.



︎ www.chrisspeedvisuals.co.vu

︎ @chrisspeedvisuals

︎ chrisspeedvisuals





Suggested features ://