Artist Feature ://
Antonio Roberts
Posted October 2018
Antonio Roberts is a New Media artist and Curator based in Birmingham, UK. His practices explore what ownership and authorship mean in an age impacted by digital technology.
His visual and performance work has been featured at galleries and festivals including
databit.me
in Arles, France (2012), Glitch Moment/ums at Furtherfield Gallery, London (2013), Loud Tate: Code at Tate Britain (2014), glitChicago at the Ukrainian Institute of Modern Art in Chicago, US (2014), Permission Taken at Birmingham Open Media and University of Birmingham (2015-2016), Common Property at Jerwood Visual Arts, London (2016), Ways of Something at Whitney Museum of American Art, New York (2017), Green Man Festival, Wales (2017) and Barbican, London (2018).
He has curated exhibitions and projects including
GLI.TC/H
Birmingham (2011), the Birmingham editions of Bring Your Own Beamer (2012, 2013), µChip 3 (2015), Stealth (2015), and No Copyright Infringement Intended (2017). He is Curator at Vivid Projects and is part of the Advisory Group for New Art West Midlands.
'

Blood Sport

', A still from a live coded 40 minute video for the band Blood Sport, Antonio Roberts. Single-channel digital video, 2017.



Q. What first interested you to begin working primarily in Digital Art forms? Did you have an interest in other mediums to begin with?

I've always been a very detail-orientated person and I like the amount of control that you can have when working digitally. The tools usually allow you to control minute aspects of an artwork which you can change or undo at will. I used to do painting, charcoal drawings and portraits early in life where I had a similar approach. I'd focus obsessively over details. I had dabbled with digital art in primary and secondary education (computer in the art classroom was still in its early stages in the late 1990s) but it wasn't until my undergraduate studies that I started to seriously explore using computers to create art work.


Q. How do you manage the balance between commercial and personal projects, both in terms of time and head space?

A big part finding that balance is deciding when to say no to opportunities. There is of course excitement when an opportunity does come along, but there's also the fear that if you don't say yes this time then you'll never have that opportunity again. Even at nearly 10 years into my practice saying no is still something I struggle with. In general I try and take opportunities which will help advance my career. I ask myself if a project will help build my profile and/or help me learn something new. If it can do one or both then I'm more inclined to pursue it. Money is of course important, but I don't want to pursue an opportunity if that's the only thing I'll get out of it. That, of course, assumes that there's any money involved at all!


Linked to that, I have recently forced myself to stop any commercial activity so I can work on developing on my practice. This has meant just researching, sketching, and making work without any end goal in sight. I've found this really useful to help me develop new ideas, feel more relaxed and avoid my practice going stale. With this all said, there's isn't one golden rule to manage this balance. When I've felt overworked, uninspired or find myself struggling I just have had to learn how to take this seriously.



'Archive Remix', Antonio Roberts. Digital painting, 2015.



Q. What advice would you have for someone trying to go down the commercial route with their practice?

Negotiate as far as possible how much creative control you have over the work that you're creating. Commercial interests can mean that a huge logo is put over your work or that it's edited without your consent.

Of course I would say to get a lawyer if you're presented with a contract but I doubt any of us would have the funds to do so (I've never had one!). Instead, ask as many questions as you can about the brief, how the work will be used, and how you will be compensated. Read over everything twice and ask your friends and family for advice if you're unsure. There are also organisations such as a-n and DACS who can advise on some matters including professional practice and copyright.
Commercial work does often pay better but your name will still be associated with that work so be sure whatever project you work on is something you'd be proud to be associated with.



Q. As a participant in one of your workshops, I have had great fun since making my own glitch art images, but how important for you is it to make digital art forms such as glitch art more openly accessible to a general audience through your workshops?

I feel this is very important. Digital art in general is a relatively new practice and doesn't have centuries of history behind it. We're all still learning how it's made and establishing methods of best practice. As a new practice I think digital artists have an exciting opportunity to shape how it develops. A big part of that for me is ensuring that we avoid the elitism and gatekeeping that has prevailed for so long in the art world. Delivering workshops (and presentations/lectures) has played a big role in this for me. By showing how the tools work and, importantly, using open source tools, I hope to foster a more democratic community where the barrier to entry isn't defined by access to the tools and methods of production.



'

Light Under The Door

', Debut music video for musician My Panda Shall Fly, Antonio Roberts. Single-channel digital video, 2015.



Q. Where do you take inspiration from? Particularly when you might be suffering with a creative block?

Music certainly helps. Whenever my mind is rushing around with too many ideas I will often listen to something hypnotic like Ryoji Ikeda, Bing & Ruth or Steve Reich (Music for 18 Musicians FTW!) which helps me to stay focused. I think there's something about the repeating patterns in the music which resonates with the way that I work which often involves programming and logic.

In general though I take inspiration from live music and live performance. Many of my works are made by creating environments where I can trigger things to happen or where they can happen automatically and randomly. I prefer this approach as it requires me to be live and alert and perform (with) the work. Even if the resultant output is a still image, it's a capture of a live performative act.

It's no surprise then that I like to work to music and imagine my work with a soundtrack. Unlike the music I listen to to focus, the music I listen to when working ranges from very expansive heavy metal such as Cave In, Bent Knee and Kayo Dot to more electronic such as Bike for Three!, Octo Octa and BRAIDS. Performing at Algoraves also really helps with encouraging creativity. Although it is a stressful environment to be creating, the fact that it is live for me means that it is a more immediate representation of my mood and emotions.






Q. What project have you found most interesting to work on and why?

The Common Property exhibition that took place at Jerwood Space in January 2016 was one of my favourite exhibitions and certainly very interesting to work on. I'd been exploring copyright and art for a few years and so it was really a pleasure to be given so much creative freedom at such a prestigious gallery to explore my interests.

The exhibition was a group exhibition of six artists, with three artists - myself, Owen G. Parry, and Hannah Knox, being commissioned to make new work. Thematically we were all responding to ideas surrounding the reproduction and reuse of artworks but approaches included painting, sculpture, 3D printing, performance and, in my case, digital videos and projections.

There's been lots of efforts from copyright lobbyists to tighten the laws around copying and I think there's a misguided belief that this problem is unique and brought about solely by the internet and digital technologies. I think this exhibition showed that it's a problem that has existed throughout the ages and through every medium, but also that it is something that enables creativity, not prevents it.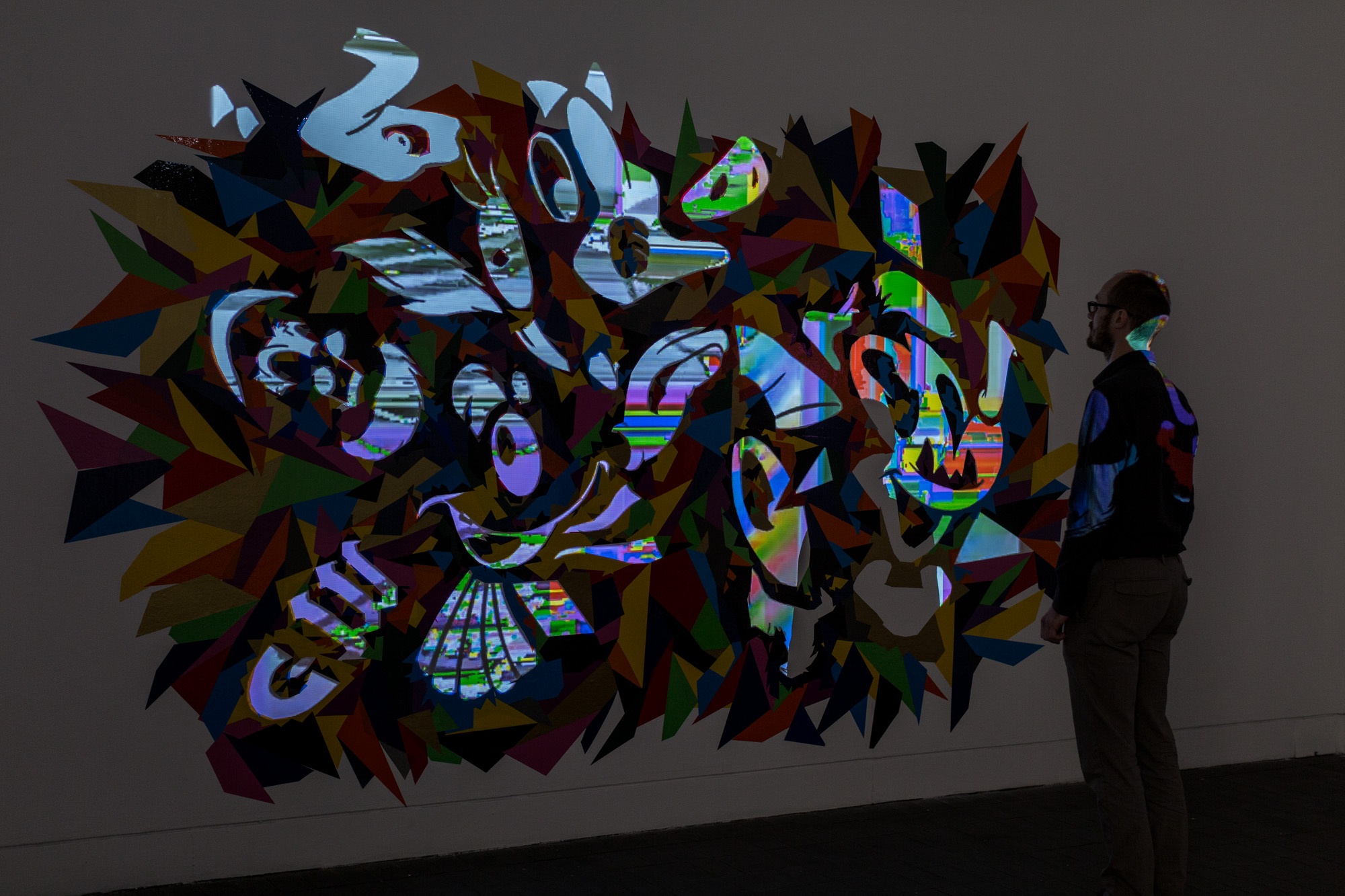 '

Transformative Use

', Vinyl installaton and video projection commissioned by Jerwood Visual Arts for the Common Property Exhibition, Antonio Roberts. Single channel digital video, 2016. Photo credit by Hydar Dewachi.



What was the most challenging project you've worked on, and how did you overcome it?

The MTV Visual Ident I made in 2016 was one of my most challenging project yet. At that point in my career I had made a number of videos for galleries and screenings at film festivals but not for broadcast on TV. The brief itself was fairly simple: For the Visual Idents MTV were essentially asking artists to make animations in their style and put the MTV logo at the end. It harks back to when MTV first appeared in the 1980s and they had some very experimental Idents.

The challenge came when dealing with Ofcom. Without getting into too much detail, videos screened on TV need to pass the Harding Test. If your video has lots flashing imagery then it will not pass the test. This is to prevent triggering a reaction in those with photosensitive epilepsy. Most of my work contains a lot of flashing imagery which is often as a result of the techniques used. Glitch art and random number generators will produce unpredictable results.

Strangely it's never something that has been mentioned in my time exhibiting and screening work both online and offline. However, it would appear the rules are stricter on TV, and rightly so as it could affect millions of people. So, my finished piece which was originally very glitch and flashy had to be toned down a lot, and eventually the unfortunate decision was taken to not screen it in the UK (only Ofcom objected to the video). I'm not at all upset about this. It served as a great education for me and helped me to be more considerate about the health of audiences that view my work. I would say the only frustrating part was trying to edit the video. I went through six iterations and on each one Ofcom's automated tests would throw up new errors. If only there was software that I could run at home to avoid the delays.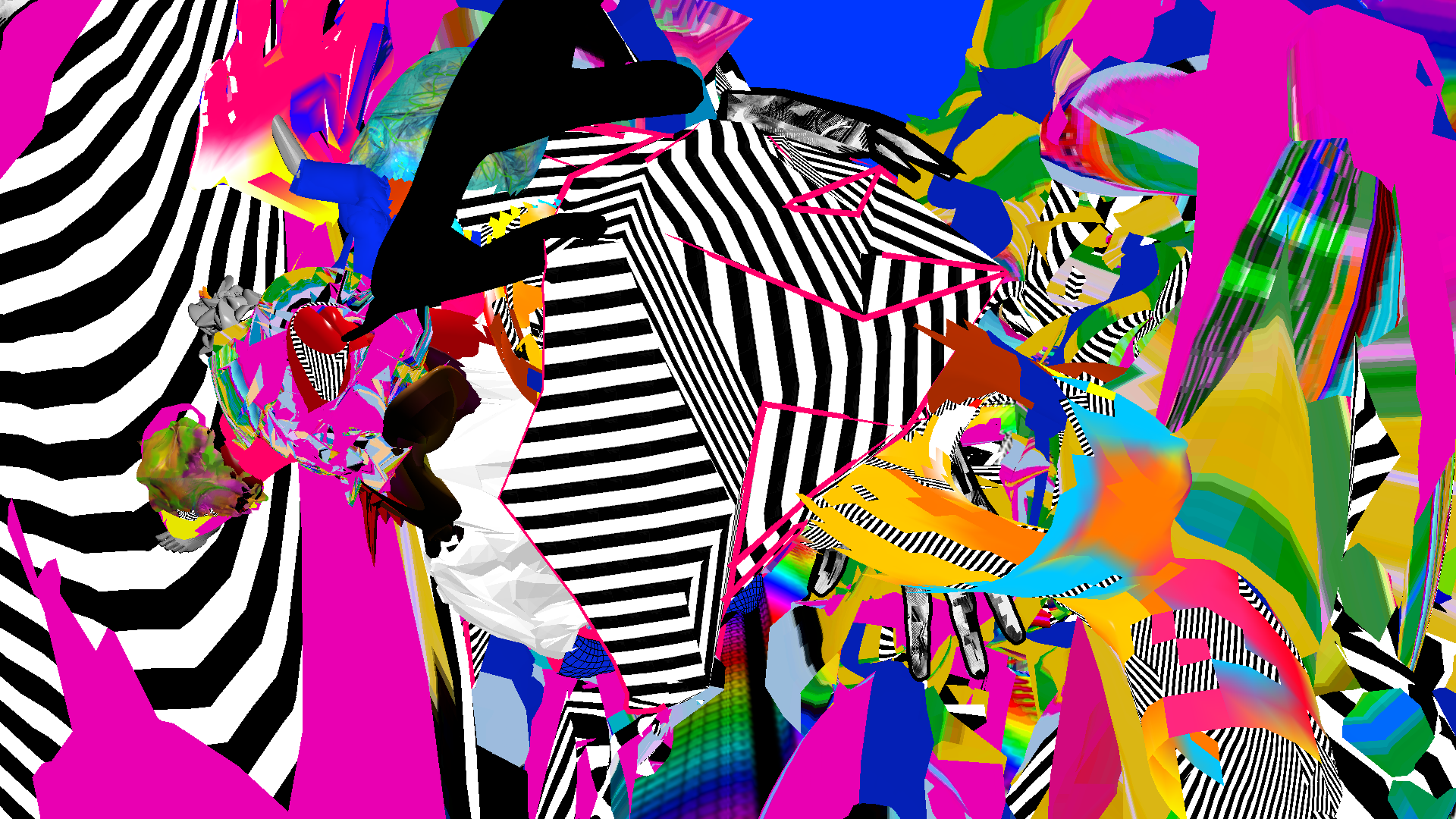 'MTV Visual Ident', Antonio Roberts. Single-channel digital video, 2016.



With art forms such as glitch art being randomly created, how do you plan the compositions in your work?

When I build any generative artwork I set the upper and lower limits that the work can operate in. For example, I may have a piece of code that will change the size of a cube randomly. I can set the upper and lower limit so that it will only generate random sizes between those two predefined sizes. In that way I still have some control over what is being created and can predict how it will operate.






'

Glass

', Commissioned by Tate Britain for Loud Tate, Antonio Roberts. Single-channel digital video, 2014.




I really enjoy how you take your digital works and install them in new and innovative spaces such as Mirrored, 2017. How important is it for you to play with these different spaces or more physical objects, and does it alter the concept of your work?

Mirrored was another very challenging piece for me. I was encouraged by the commissioner, Green Man Trust, to explore how my work could exist in a physical form in an outdoor environment. This brought with it many challenges, the most obvious ones being that I didn 't have the safety of a controlled gallery environment (for example it doesn't rain in galleries!) and I wouldn't have very easy access to electricity. I initially wanted to rest on my laurels and make video work but, again with the encouragement of Green Man Trust, I explored trying to represent my video work in a still, fixed form. Although very challenging I think it was important to do this. We had/have the Post-Internet movement which started to explore taking digtial works off the screen and I think doing this is essential for the practice of digital art to evolve and develop further. I believe digital art shouldn't just exist on screen.




Do you have any words of wisdom for aspiring digital artists?

Don't get caught up in hype surrounding new technology. New technologies are being developed all the time and there can be a ill-conceived idea that in order to stay relevant you have keep up and develop with the newest technologies such as Virtual Reality and Augmented Reality, and use the latest and greatest Macbooks. There is certainly something good to be said for using tools that enable your creativity, but this can easily be Microsoft Paint as it could be Adobe Photoshop CC. My perception is that many of the first works developed with a new technology will be a spectacle and demonstration of the technical capabilities of the technology. The work that comes after this time will often be that which has longevity.


Tell us more about 'Basquiat's brain'.




'Basquiat's Brain', Antonio Roberts. Single channel digital video, 2018.


Basquiat's Brain is a project I worked on with the Barbican Young Creative's from November 2017 to January 2018. The main provocation was to ask if Basquiat were alive today would he be hacker or otherwise unconventional digital artist. Basquiat was widely celebrated for his unconventional approach to making work and not adhering to established was of working. Digital artists are similar and have for a long time sat on the fringes of the contemporary art world. We've had the time and infinite space to develop our own ways of working and our own language to describe it. We used lots of unconventional ways of working, most notably glitch art, to make a series of animated portraits that speculated on this idea of Basquiat being an (image) hacker.







︎ www.hellocatfood.com

︎ @hellocatfooood


︎ hellocatfood

︎ AntonioRoberts





Suggested features ://