Artist Feature ://
Alessio Guano
Posted September 2019

'

BLUE HORIZON

', Alessio Guano. Mixed media and digital collage, 2019

Alessio Guano is a visual artist, curator and writer based in Italy. His research ranges between painting, photography and installation. Using several painting techniques such as acrylic paint, spray paint, collage and engraves with digital interventions, he creates works and installations, often designed for unconventional spaces such as abandoned buildings, old factories and other unexpected places.

Born in La Spezia in 1984, he is the creator of choral projects. He boasts collaborations with artists from all over the world. His passion for art led him to develop a research space project, atelier 97 arte contemporanea, an online space that allows artists from around the world to collaborate. He is also a collector of contemporary art and artist books. Since 2015, he is the curator of Liber - Archivio del libro d'artista.





Q. How did you come to discover and explore art, or how did art discover you?
I don't remember exactly when I started thinking about art. I have always been fascinated by painting and had the opportunity to approach art as a child. I loved drawing, reproducing landscapes and smearing white walls with colours, something common to all children, I believe. I consider my room walls as my first canvas.





Q. Tell us about the process behind your artworks, where do you get your ideas from?
My work is mainly focused on the analysis of contemporary society, daily gestures and collective needs. I hope to better tell the historical period I am living, always collecting stimulating feelings and ideas. It is an incessant work. I observe and read as much as possible. I "chew and digest" information and images, and then reproduce them with my language. I think it is important, for any artist, not to improvise too much and this modus operandi is fundamental for me.
My creative process is a stratification of distinct actions, often interspersed with stalemate phases. I have been working like this for several years and my research does not live without the knowledge built up over the years. The most important phase is undoubtedly the collection of materials and images. I think the act of collecting objects, seemingly worthless, is already a fundamental part of my research, as is downloading images or videos from the web. The images I cut from magazines, the photos I find in second-hand markets or on the Internet, old books or catalogs, fabrics and all that attracts me come into my personal collection. Some of these objects or files will probably remain unused for months and months before being used, some will be forgotten to be found again, others will immediately take part in the creative process. All that comes next is to automatically combine or program the pieces of this artistic puzzle.




'
PINK NOISE
', Alessio Guano, Mixed media and digital collage, 2019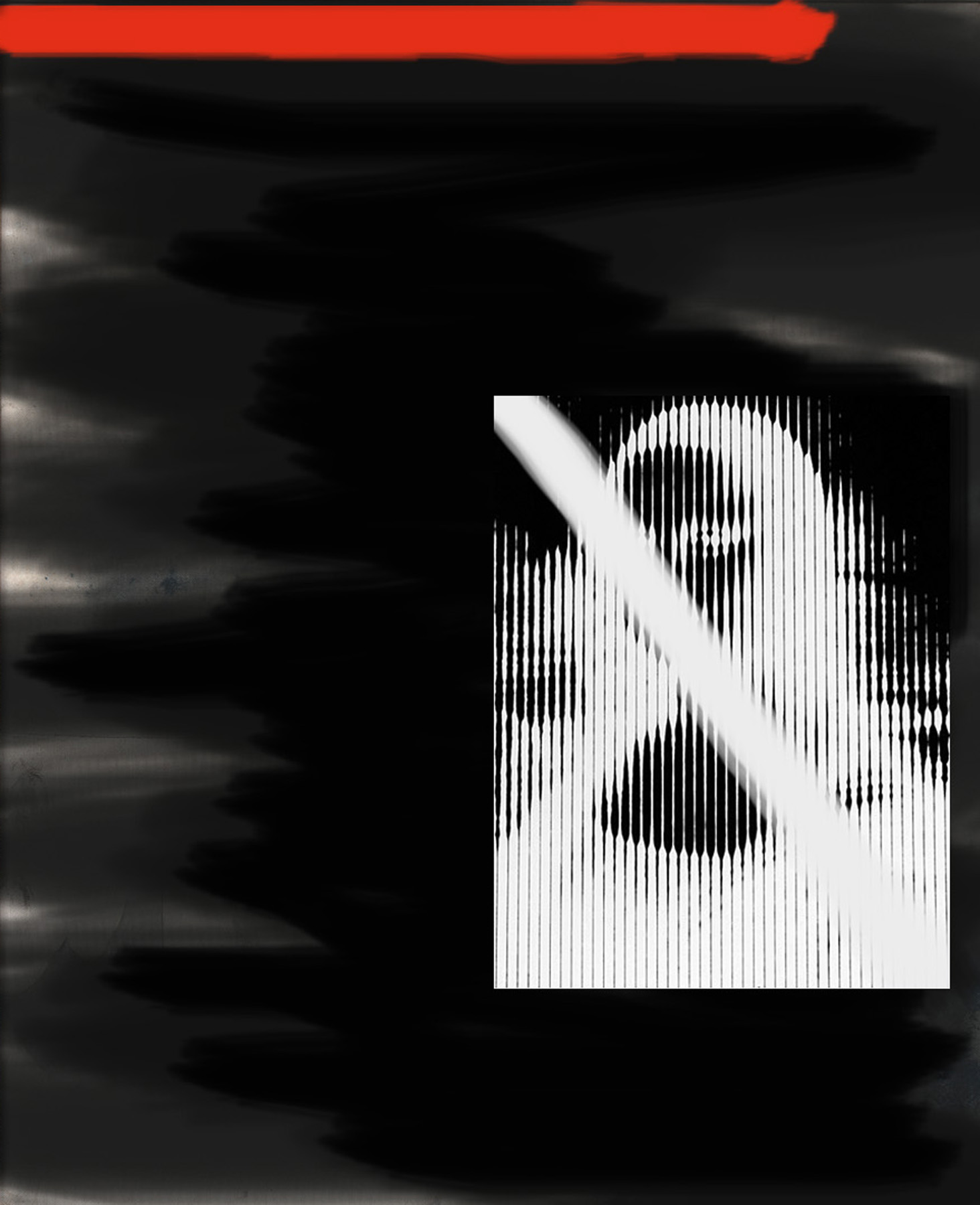 '

ONCE UPON A TIME

', Alessio Guano, Mixed media and digital collage, 2019




Q. Do you work on multiple works at the same time or focus on one artwork at a time? There are a lot of layers in each of your pieces, how do you decide when one is finished?
I often work on several works simultaneously. This is also part of my creative process. Both while working in analogue - painting and collage making - and while working with digital. There are many pictorial layers or digital layers, but they all merge and often some of them overwhelm others.
I believe that sooner or later the layering process ends naturally. However, there must be a clear balance, or why not, an imbalance in the composition. So it ends when I reach this balance visually and mentally. It is not always easy to get it and often the works remain suspended, waiting to be finished. A few months ago in an interview I talked about "breathing times" in the creative process. I think it is important to understand when the creative process, that leads to the conclusion of a single work, should be temporarily interrupted. Some creative steps need time, this is the stalemate period I was talking about earlier.





'WAS IST DAS', Alessio Guano, Mixed media and digital collage, 2019



Q. What art book(s) or article(s) would you recommend to our readers?
I'm always looking for something interesting to read. Just a few days ago I looked for some news on the web. I haven't read either of the two that I'm going to quote you, but they look interesting.

'Contemporary Art and Digital Culture' by Melissa Gronlund seems interesting, it analyses the impact of the internet and digital technologies upon art today.

'Dark Side of the Boom: The Excesses of the Art Market in the Twenty-First Century' is old but gold. This book scrutinizes the excesses and extravagances that the 21st-century explosion of the contemporary art market "brought in its wake", as I read from some reviews on the web.



Q. What is the appeal of exhibiting in a space outside of a conventional gallery?




In these years I have been able to participate, as a visitor or organizer, to cultural events and international exhibitions in many exhibition spaces both in Italy and abroad. What I've always wondered is why people participate in the opening days of these events, but they don't care to actively participate in the following days. The inauguration day is in itself an happening event and it is important that people are part of it, but what happens after that? Few visitors often appear in the exhibition space and most enter and leave without even having a conversation.
People are not used to finding an exhibition in an old factory or in an abandoned country. This makes an event unique. So, I thought of making the locations of the events more appealing, choosing some unusual and unexpected spaces close to my home town.

In these years I have exhibited - as a solo exhibition - in a railway museum, on a train of the thirties, in a courtyard and in abandoned houses.

A few years ago I also organized an exhibition with international artists - UNEXPECTED LANDSCAPES - and I exhibited about thirty works in old houses, in a small abandoned town. People came to visit the place and the exhibition not only for the opening day, but also for the following days. It was a nice way to meet new people and converse with a different audience. I am still working on this idea and I hope to soon realize some events in particular places.

'

GREEN HORIZON

', Alessio Guano, Mixed media and digital collage, 2019




Q. What achievement(s) are you most proud of?

I have been working in this area for over ten years. I have received numerous awards, in particular from critics and art lovers. What interests me is to work for me and for those who follow me. I am interested in making the public reflect, making them reflect on everyday problems and why not, make them understand that even small things are a gift. Art is inextricably linked to life and must shake the souls of the community. I think what's really important is yet to happen. This is my goal.


︎ www.behance.net/alessio_gu65a5

︎ @alessio_guano




Suggested features ://